Mussel Buster ensures long service life by employing a precision coating procedure in a controlled environment. Would you take your car to a body shop that paints cars outside? Would you take it to untrained painters? Why would you do the same with your performance propeller or running gear? The Mussel Buster coating network only accepts audited and approved professional coating applicators. Skip down to a Case Study below or Download 3rd-Party Testing Results.
| FEATURES | MUSSEL BUSTER | LEADING COMPETITORS |
| --- | --- | --- |
| Extremely durable and long-lasting | | |
| Self-cleaning (with regular boat use) | | |
| Applied in a controlled environment | | |
| Applied with precision equipment | | |
| Applied by qualified coating personnel | | |
| Thermally cured in a calibrated oven | | |
| Uniform surface thickness guaranteed | | |
Application Case Study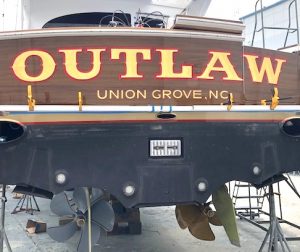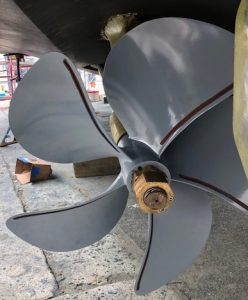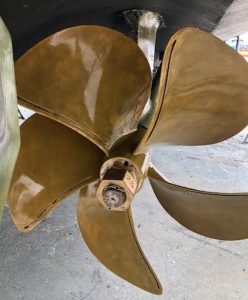 The Outlaw, a 50-foot Viking, launched in mid-November. One propeller was coated with Mussel Buster, and one prop was coated with a leading competitor's product. The Outlaw traveled from Florida to the Bahamas and back, with over 20 hours running time. After that, the boat remained in harbor for three weeks.
The pictures below show how the Mussel Buster coated prop dramatically outlasted the competition. While there is a minimal amount of Mussel Buster missing due to cavitation near the hub, you can see the competitor's coating is virtually gone on the one side of the prop.